History and Approach
In order to enhance the learning experience we offer our students, Florida State University founded the Center for the Advancement of Teaching in 2017.
Across the country, students have been struggling in introductory STEM courses: many students drop, fail, or repeat these classes. Further, at almost all institutions, there are troubling gaps in student success: students from lower income backgrounds and underrepresented students fail, drop, or repeat these courses at much higher rates, which results in fewer of these students pursuing careers in STEM fields.
Introductory courses, where students develop their conceptual frameworks and foundational skills, are critically important for students' persistence and success in STEM majors. These courses are typically high enrollment and exclusively lecture-based, conditions that can actually hinder learning. Outstanding peer institutions have developed Learning Assistant (LA) programs to support teaching transformation in such courses. Although teaching centers do not traditionally house LA programs, Leslie Richardson, the founding director at CAT, began developing one in 2018 to help faculty learn about and practice learning-centered, inclusive teaching.
Students learn better in interactive and engaging environments, where they have plenty of opportunities for practice and feedback, and for talking through their thinking, but it is difficult to incorporate hands-on activities in very large classes. The LA model can make a large class feel more like a small class. LAs are undergraduates who have successfully completed a course and are selected by faculty to work with them in the classroom in a subsequent semester. They help students engage with course material for better understanding, facilitating discussions and problem-solving among groups of students during class.
Through the guidance of weekly preparation sessions and a pedagogy course (taught by CAT staff), LAs are trained in both the cognitive and social-emotional dimensions of facilitating learning. Their work with students goes far beyond what traditional tutors can offer: because they attend the class alongside students and meet regularly with the professor, they have a more accurate sense of both the content and the expectations in the course, and they are much better prepared to provide targeted feedback. Although they can and do meet with students outside of class to offer additional support (as do more traditional tutors), they also facilitate small-group learning during class and can even serve as mentors and role models because they develop good working relationships with students over time. Another advantage they have over tutors: they thus reach every student in the class, not just students who avail themselves of tutoring.
The LAs can also help faculty make changes in their teaching. Even when our colleagues learn about and see value in more learning-centered, inclusive teaching practices, implementing active learning in a large class can be intimidating. The support of LAs can make teaching transformation seem more possible, and LAs' feedback on what's working and what isn't in the course from week to week can be invaluable. Once faculty commit to working with LAs, they are also invited to attend monthly LA faculty meetings, where their colleagues who teach with LAs serve as a community for pedagogical exchange. Additionally, these meetings are facilitated by educational developers at CAT, who can also help faculty take an evidence-based approach to teaching, so although it is unusual for a teaching center to found and manage an LA program, it turns out to be an excellent fit, providing various pillars of support for improving teaching in the STEM disciplines and beyond.
Impact
To date, we have trained over 300 LAs. The following courses (at least some sections) have been enhanced and supported by working with the LA program:
Finite Mathematics
College Algebra
Analytical Trigonometry
Pre-calculus Algebra
Calculus I
Ordinary Differential Equations
Biological Science I
Biological Science II
Genetics
General Chemistry I
General Chemistry II
Organic Chemistry II
Biochemistry
First-year Engineering Lab
Transformation of Lower-Division Math
The program provides broad support in lower-division math because the courses are so fundamental. Every student at the university has a mathematics requirement, and all of them—but especially STEM majors—need a firm grounding in quantitative reasoning. We are especially proud of the transformation in lower-division math, which we believe positively impacts our graduation rates, now the highest in the history of the State of Florida University System and in the top ten nationally.
We have also been working to make courses more equitable, reduce opportunity gaps, and increase access to STEM majors and careers for groups traditionally underrepresented in those fields. For example, the graphs below show the improved GPA and reduced DFWs for women in a redesigned, LA-supported Calculus I class: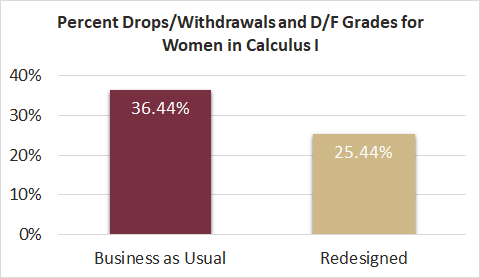 The next two graphs below show the improved GPA and reduced DFWs for first-generation students (i.e., first in their family to attend college) in a redesigned, LA-supported Calculus I class: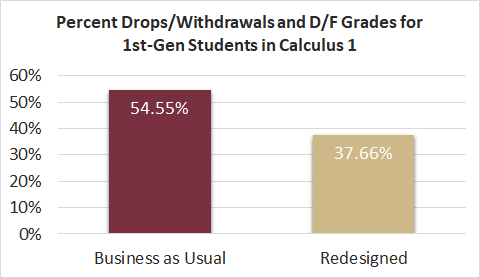 Opportunities for Low-Income Students
CAT intentionally recruits LAs from diverse backgrounds, in order to provide positive peer role models for all students, as well as leadership opportunities and employment opportunities for students who might not ordinarily receive them. We actively recruit low-income students by collaborating with the Registrar's Office and Financial Aid to identify students who are eligible for Federal Work Study, and students who score high on the Adversity Index, who have performed well in the LA-supported courses.
Financial Impacts & Productivity Award
In 2020, CAT received a TaxWatch Productivity Award in large part because of the teaching transformations made possible by the LA program. Course redesigns and LA support maximized student learning and success, particularly for those first in their families to attend college, benefitting a total of 7,542 students in the first year (AY 2018-19). By dramatically improving course passage rates, the equivalent of 775 students who previously would not have passed these required courses were able to successfully complete them—instead of retaking courses, lengthening their time in college, or dropping out altogether. The cost savings for Florida taxpayers is estimated at $29,294,000 through combined savings, cost avoidance, and unrealized opportunity costs.
Opportunities for Expansion
Additional instructors in STEM disciplines are ready to shift their teaching with the support of LAs. Newer courses include the remaining courses in lower-division Math and Chemistry, and some large-enrollment-courses from Computer Science. We will also possibly train a new group of LAs to support writing, so that we can include faculty who teach writing intensive courses in the program.