What is a Learning Assistant (LA)?
LAs are undergraduate students who have successfully completed a course and are subsequently selected by faculty to work with them in the classroom, helping current students engage with course material for better understanding. Through the guidance of weekly preparation sessions and a pedagogy course, the LAs facilitate discussions and problem-solving among groups of students in a variety of classroom settings that encourage active learning.
---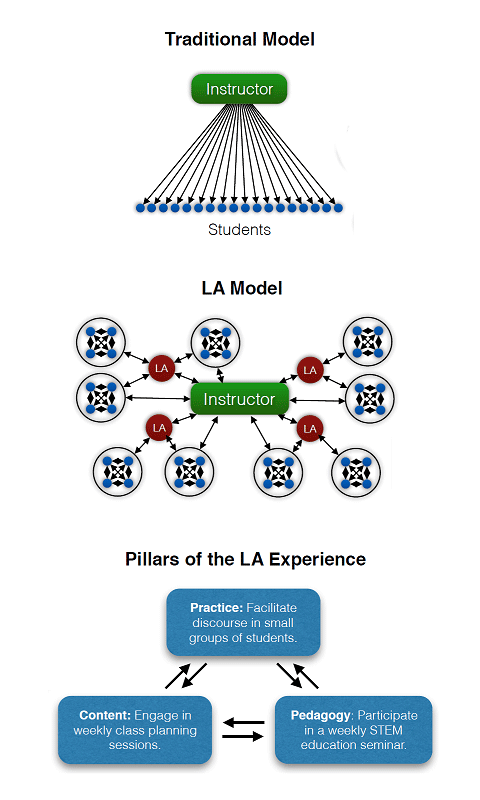 ---
Why work with LAs?
There are many benefits to working with LAs! You can visit our testimonials page to read what your colleagues are saying about the program. You can also read about the benefits described in the literature on our brief annotated bibliography. Learning Assistants can:
Facilitate interactive small-group activities during class time, making a large class feel more like a small class;
Form relationships with groups of students, learn their names, keep track of whether they are in class, and even get in touch with them if they miss class;
Help you create more opportunities for students to talk and write about their thinking;
Make it possible for students to get more practice and feedback both in and out of class;
Review students' work, give feedback to students, and tell you what they noticed about students' learning;
Make it easier and more comfortable for students to ask "elementary" questions;
Bridge the gap between novices and experts by giving you information about what students do and do not understand, and helping you make your instructions and expectations more transparent;
Give you feedback from the students' perspective, including on classroom climate (e.g., whether students feel that the class is welcoming, accessible, equitable);
Test-drive activities, clicker questions, quiz questions, exams, etc.;
Respond to questions about instructions, due dates, test dates, and other logistics;
Hold office hours and/or review sessions;
And more!
How can I learn more about the program?
To learn more about how the program is structured; how it supports faculty who teach with LAs; how to get started working with LAs; what the requirements are; what the hiring and onboarding process involves; what LAs can and can't do in their role; or anything else, please email us at LAProgram-Teaching@fsu.edu.