What's Changed?
When we learn—really learn, rather than temporarily storing something in our memories—we change our brains. We develop and strengthen neural connections. We may also change our perceptions, our behaviors, our beliefs, our decisions. Thinking about this change, and thinking about our thinking, is a critical part of learning, so reflection is an essential metacognitive activity.
Brown, Roediger and McDaniel (2014) explain that "reflection is a form of practice": it's an internalized self-coaching that "involves several cognitive activities that lead to stronger learning: retrieving knowledge and earlier training from memory, connecting these to new experiences, and visualizing and mentally rehearsing what you might do differently next time." Kimberly D. Tanner warns that "students will not really learn new information if they do not go through a metacognitive realization that requires them to examine how they thought about the topic before and how they are thinking differently… now."
When we ask students to reflect at different points throughout the semester, we are helping them to observe their thinking changing over time, and when we ask them to do a final reflection at the end of the term, we are helping them to assess and articulate how their thinking—their conceptions, their reasoning, their frame of reference, etc.—has changed because they took a course.
Although they need to reflect, this form of practice isn't instinctive for most students. We'll need to prompt them. Ideally they should be doing this thinking on a regular basis, but the end of the semester is a great opportunity for reflection. Tanner suggests "retrospective post-assessments":
A simple tool for explicitly charging students to think about how their ideas are (or are not) changing is a retrospective post-assessment. As its moniker implies, this tool is a post-assessment and occurs after learning may have taken place. It is retrospective, in that students are asked to recall how they were thinking about the topic prior to course learning activities and compare that with how they are now thinking about the same topic afterward. As an example, students might be asked to complete the phrase: "Before this course, I thought evolution was… Now I think that evolution is…" Alternatively, they may be asked to write about three ways in which their thinking about a given topic has changed over a given period of time. Either of these explicit approaches to teaching metacognition is a mechanism of training students to self-question, "How is my thinking changing (or not changing) over time?"
In addition to helping students to consolidate and make meaning of their learning, by prompting reflection at the end of the semester, we're also inviting them to end the term focusing on what they've learned, what they've gained, and how they've changed because of the all the intellectual work they did our courses. It's gratifying for us to read or listen to those reflections, too.
---
Upcoming Events…
Spring Course Design Workshop
Wednesday, Dec. 19th, 10:00-4:00. Lunch provided.
If you'd like a friendly forum to reflect on how your fall courses went, and to make plans for spring, please join us after grades are in. Whether you're revising a course or planning a new prep, we can support you as you use recent research on learning to shape your spring courses. Although many of us are accustomed to planning our courses in isolation, the important work of teaching is better tackled in a community of peers, with plenty of opportunities for feedback and fresh ideas. This will be a practical, hands-on workshop, so you'll leave having developed course plans and materials. We look forward to working with you. Please RSVP here.
Spring Faculty Reading Groups
Faculty reading groups give you an opportunity to connect with colleagues from across the university, delve into the research on learning, and share practical strategies for making your classes even more effective. Each group will involve a series of three meetings, so please check your calendar to make sure you can attend. Space is limited. RSVP here and we'll send you your complimentary copy of the book. We look forward to working with you!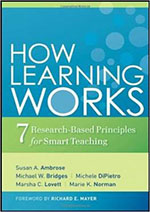 How Learning Works
Mondays: 2/11, 2/18, 2/25
2:00-4:00 p.m.
This book distills the research on cognition, translating decades of scientific literature into practical advice for university faculty and introducing seven general principles of how people learn. The authors draw on research from cognitive, developmental, and social psychology, as well as educational research, anthropology, etc. The discussion spans issues from memory to motivation, integrating theory with real-classroom examples in practice. Participants will develop strategies for strengthening their own teaching through the application of these principles of cognitive psychology.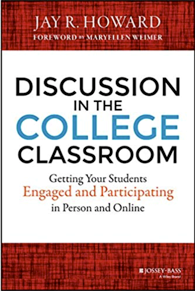 Discussion in the College Classroom\
Tuesdays: 1/22, 1/29, 2/5
10:00 a.m. – 12:00 p.m.
Whether you have been teaching through class discussion for years, or you'd like to begin incorporating discussion into a course for the first time, this wonderful book is for faculty of all disciplines and experience levels. In Discussion in the College Classroom, Jay R. Howard, a professor of sociology, summarizes findings from an extensive body of research on discussion as a pedagogical technique, and shares practical approaches to keeping classroom discussions fresh, productive, and serving the learning goals, both in person and online. Participants will explore the findings and strategies in the book, and share their own plans for structuring thought-provoking class discussions.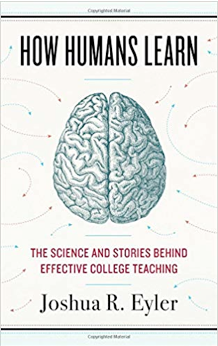 How Humans Learn: The Science and Stories behind Effective College Teaching
Wednesdays: 2/20, 2/27, 3/6
2:00-4:00 p.m.
Teaching is a challenging profession. One way to make it easier is to know more about the ways students learn. How Humans Learn surveys research in fields as diverse as developmental psychology, anthropology, and cognitive neuroscience for insight into the science behind learning. Joshua R. Eyler guides the reader through a story that ranges from investigations of the evolutionary record to studies of infants discovering the world for the first time, and from a look into how our brains respond to fear to a reckoning with the importance of gestures and language. In this reading group, we will explore five broad themes—curiosity, sociality, emotion, authenticity, and failure—and discuss practical takeaways for busy teachers.
Creating the Path to Success in the Classroom: Teaching to Close the Graduation Gap for Minority, First-Generation, and Academically Unprepared Students
Dates TBD by Doodle Poll
Over the past few decades, extensive research has shown that we can significantly reduce achievement gaps and enhance student learning by adjusting our teaching practices and the ways we structure our courses. But where do we start? Kathleen Gabriel's book provides practical strategies for building our courses to ensure that more students learn more and more deeply. Gabriel offers concrete steps we can take to enhance student motivation, structure class time effectively, prompt critical thinking, design effective assignments, and create classroom climates that promote learning.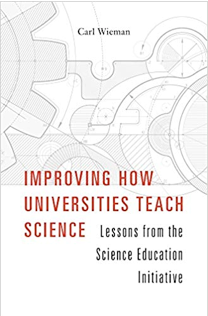 Improving How Universities Teach Science: Lessons from the Science Education Initiative
Registration closed
Nobel-winning physicist Carl Wieman is also an outspoken proponent of education research, and has spent decades studying the effects of scholarly approaches to teaching. His most recent book presents the results of an extensive science education initiative, and advocates substantial changes in the structure and strategies of college classes, to achieve far greater student learning. He also provides concrete strategies for improving teaching without imposing undue demands on faculty time.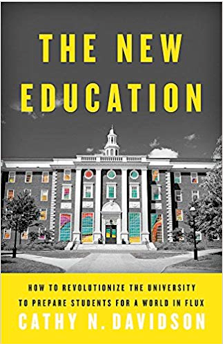 The New Education: How to Revolutionize the University to Prepare Students for a World In Flux
Dates TBD by Doodle Poll
Davidson argues that our current educational system was designed for an industrializing economy, and no longer offers students the type of preparation they require for a globalized and digital future. If universities are to remain relevant in our rapidly changing world, we'll have to become more nimble. Davidson studies innovative faculty and institutions that have found ways to help students hone their creative, collaborative, and adaptive skills.
This reading/working group is designed especially for women who are interested in leadership positions in higher education, and is co-sponsored by the ACE Women's Network of Florida, FSU Chapter.