Gratitude
The stream of Thank-A-Professor submissions is still flowing in, so instead of reflecting on how the semester went (you can read last year's message here), we can't resist sharing more of the messages your students sent. Much of the incredible work you do isn't acknowledged through this program; next year we'll advertise more widely, and give students a longer window for submissions, so more students will have the chance to express their gratitude. But the heartfelt tributes below are a testament to the difference all of you make in students' lives. Here are some samples, to warm your holidays:
"Your passion for teaching, your knowledge, and your enthusiasm fascinate me every day. You always encourage and motivate your students to be the best version of themselves. You inspire us to achieve great things in life. You're always seeking for opportunities that'll help us grow personally and professionally. You are an inspiration and a role model. I want to leave a legacy like you when I grow up. Thank you for being a great professor and a mentor not only to me but to all the students you've impacted during your career!"
"L. always goes above and beyond to mentor students. She makes them better people, not just students. When I look back on this experience in 20 years, she will still be the major influence that made this a positive time in my life."
"Thank you to Professor K. for always trying to make class truly about gaining knowledge on the subject. He genuinely just cares that you understand the material and are having a fun time in the class. His assignments are based on something you, the student, have a passion for because he believes in recognizing his students' interests wherever he can. He understands we have other classes and lives outside of school and he does his best to thoroughly respect that. It hasn't gone unnoticed. Thank you, Professor K., for being epic!!"
"Dr T. devotes her time to her students wholeheartedly. She is dedicated to teaching her class to be outstanding individuals and is willing to consistently challenge them to make them stronger and smarter. I love having her as a professor, and how friendly she is to me while also giving me realistic advice. You're an outstanding woman and we all love you Dr. T!"
Dr. B "has challenged and helped me in becoming a better student and person. She is very thoughtful and genuinely cares about her students. I honestly don't think I would have made it this far without her help. From the bottom of my heart thank you Dr. B."
"Z. has helped me grow as a student through the way I study, the way I think, and the way I examine everyday life. Since taking classes with Z., I've gained a mentor and have grown to appreciate learning and my major much more. I wish I could have taken more classes with him through my time at FSU! Thanks for being an awesome professor, your future students will be lucky to have you!"
"Dr. L. has shared her enthusiasm and vast knowledge with her students which is contagious. Her well thought out and purposeful assignments have enabled me to continually learn and sharpen skills."
"Professor M. is a great teacher who genuinely cares about her student's success. In offering tips and guidance she always has a genuine way of teaching. I am glad I had her as a teacher, for I enjoyed the experience in her class greatly. She always inspired me, appreciated my work, and encouraged me to continue on."
"In addition to his accommodation of our class throughout Hurricane Michael, Mr. D. inspired his students to seek new opportunities. He allowed students to express themselves and challenged their world view. Mr. D. is extremely dedicated to teaching and molding the lives of his students."
"Dr. P., you are truly the most influential contributor to my college experience. You push your students to reach new limits, which shows that you truly respect and acknowledge our capabilities. Your high standards and work ethic have kept me from taking shortcuts, allowing me to produce work I can be proud of. Even more impactful than your role as an instructor is your role as a mentor and supporter. Every time I chat with you, I know that I will leave the room feeling more calm and motivated than when I walked in. You took the time to get to know me, learn about my strengths, and push me in directions that would capitalize on them. I feel truly thankful to have met you."
"Thanks for pushing me hard but at the same time giving me enough room to fall down so I could learn from my failures without derailing my school career. Also, thank you for understanding the sometimes unreasonable demands of Life, and appreciating the difficulties of balancing Life with school."
"Thank you for your kindness, for sharing your knowledge, and for making our class very enjoyable while still being extremely informative! I love coming to your class every day, and I never leave without feeling like I have learned a lot from your lectures, activities and class discussions. Thank you for all that you do for our class, as well as all of your students."
"Thank you so much for being such a supportive and inspiring individual! You have ignited this class and molded it into a community where I have learned so much more beyond the literature I dove into. I can apply all I have learned into my life and how I see the world."
"Thank you so much for providing a challenging and thought provoking course that allowed me to expand my knowledge in an unfamiliar area and era.  This course was very fun, informing, and interesting all at once.  You enthusiasm for both the subject matter and the classes shone through with every class meeting.  And thank you very much for always having an open door to discuss issues related to the class."
"Dr. P. is genuine, compassionate, and understanding. He works with students to encourage learning and better understanding of subject matter. Thanks for all your support and guidance!"
"Dr. D. was super engaging and I felt as though my world perspective was expanded."
"Your class is really enlightening and very engaging! It's very clear that you are passionate about what you teach and want to pass on that knowledge to others. It has really ignited an interest in history for me!"
"Dr. S., I wanted to take a minute to thank you for all you have taught me throughout my time at FSU!! You were one of my very first professors here, and I will never forget the positive impact you left on me, and how it will influence my career forever! Thank you for all of the amazing tools you have given me to be successful, and thank you for always showing care and kindness throughout my process here as a student. I will always remember you as I move into my career as a future teacher! Never forget how loved and appreciated you are!!"
"Dr. L. has contributed in many ways to my life and career. She has always listened to my challenges, understood me and motivated me to push harder in life.  I appreciate how she always made me feel she believed in me, even when I wouldn't. There is nothing I can do to repay her for all her contributions to my life. I wish one day I can be as inspirational to others as you have always been to me."
"Professor V. takes time to mentor me, answer my questions, and inspire me to ignite a love of learning. He shows students patience and respect. I'm proud of being his student."
"C. has taken the extra time to develop personal bonds with his students. He helps each and every one of us understand the material with examples we can relate to which are also interesting. There is no way someone can tune out during his class because he does such a good job. His class is not only enjoyable, it hurts me to skip it."
"Professor W. has showed professionalism and dedication in her craft."
"Dr. J. was incredibly generous with her time and with her "self" — sharing who she is as a professional and as an individual so I could benefit from her experience. I would like to thank her for her encouragement and mentorship, as well as for challenging me to find my own path as a researcher."
"Dr. W., I wanted to take a second to let you know how appreciated you are!! Thank you so much for all you have taught me throughout my time at FSU. Not only teaching strategies, but genuine kindness that I will always remember! Thank you for always giving honest and encouraging feedback and pushing me to be my best!"
"Please know that your compassion for your students does not go unnoticed. You always inspire me to engage with the content in way that makes it easy for me to translate the content to others outside of the classroom."
"Even though it is such a large class she still cares so much for each individual student.  I have never done one of these things but she really deserves it."
"He opened my eyes to things I was blind to before! He really does change peoples' perceptions for the better."
"Thank you for taking the time just to ask me how I am doing with life and how my health is. It really shows that you as a professor care about your students each individually."
"Professor D. has motivated me to develop a love for understanding how life is possible. I want to thank him for bettering my perspective of the world."
"Thank you for making learning fun and interesting. It's inspiring to see the passion you have for your field and it encourages me to work harder every day. Also a big thank you for reaching out and acknowledging our hard work!"
"Professor D. has made learning a difficult subject the coolest thing ever."
"At the end of the semester, he writes a letter for the top students in his class and I started crying while reading mine. He has so much compassion and he will probably always be my favorite professor and I am not even a major."
"You helped me get through a difficult internship process. You listened to my concerns and did not judge me. You offered a safe space for me and my classmates to share our experiences. You came with a bright smile and offered kindness every class period. You are one of those exceptional teachers that students can never forget."
"I want to thank Dr. E. for always making class so fun and interesting to participate in. He took a subject that I wasn't previously excited for and made me want to come to class! I appreciate all the hard work he puts in to make sure that everyone in class is getting the experiences that they should be getting!"
"She takes the time to invest in students' dreams and makes each assignment personal."
"This professor is kind, understanding, and unbelievably knowledgeable. Professor J. not only lectures but encourages intellectual conversation. I feel safe to share my opinions in her classroom. In addition she goes above and beyond to help her students with papers and understanding difficult concepts. She acknowledges the stressors that students have and provides self-care tips to handle the stress. I am thankful for my professor."
"Not only does she teach you to be a better student and speaker, but she teaches and wants her students to have experiences and be better human beings. We tend to lose sight of all that we have and are given in this world, Dr. K. brings you back down to earth and encourages you to be better and do better. I will never forget her lessons."
"I wish I could stay in this class FOREVER."
"Thank you for going above and beyond to show your support of the students and encourage learning. You care about the students, which is evident in all that you do. It is a pleasure to be in your class and learn from you. You motivate all who come in contact with you to be better."
"The information I learned in his lectures will take me far beyond the walls of the classroom." "You truly care that about your students learning the material and do your best to make sure that we can apply it to our future careers.  You set very straight forward guidelines, yet challenge us daily to problem solve. Thank you for caring about our futures, and thank you for coming to class every day and being passionate about the material you are teaching!"
"She has not only motivated me to become a better student but a better person."
"Thank you for caring so much about our development and investing time into us as students. I cannot tell you how much I appreciate the effort you put into making sure that what we do will improve our future. It has made me a better student and will make me a better professional!"
"This class has been such a joy for me to attend, I feel like I am learning new and interesting things every single day and can't wait to come to class. This class has helped me to be more open minded and has allowed me to understand other people's thoughts and opinions more, something that more people should learn how to do in today's world. You are an amazing professor and it is very obvious that you truly care about your students and their success."
"With Dr. V.'s detailed and organized notes, warm nature, and willingness to stop and explain any confusion, I am excelling in her class! Dr. V. is the first Latina-American professor I've had thus far at Florida State and it's truly inspiring to me, a young Latina woman myself."
"You are the greatest advocate and encourager. I am so blessed you chose to give me this opportunity. I am proud to call you my mentor. Thank you for making our program incredible!"
"J. is supportive when needed and challenging when needed. She fosters confidence yet at the same time pushes you to be all you can be."
"Both in and out of the classroom, you have been not only helpful, but a guiding light for my future."
---
UPCOMING…
Spring Course Design Workshop
Wednesday, Dec. 18th, 10:00-4:00. Lunch provided.
If you'd like a friendly forum to reflect on how your fall courses went, and to make plans for spring, please join us after grades are in. Whether you're revising a course or planning a new prep, we can support you as you use recent research on learning to shape your spring courses. Although many of us are accustomed to planning our courses in isolation, the important work of teaching is better tackled in a community of peers, with plenty of opportunities for feedback and fresh ideas. This will be a practical, hands-on workshop, so you'll leave having developed course plans and materials. We look forward to working with you. Please RSVP here.
Spring Faculty Reading Groups
Faculty reading groups give you an opportunity to connect with colleagues from across the university, delve into the research on learning, and share practical strategies for making your classes even more effective. Each group will involve a series of three meetings, so please check your calendar to make sure you can attend. Space is limited. RSVP here  and we'll send you your complimentary copy of the book. We look forward to working with you!
Becoming A Critically Reflective Teacher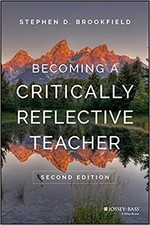 Wednesdays, 1/15, 1/22, 1/29
2:00-4:00 in 432 Diffenbaugh
Brookfield insists that we are never finished becoming more enlightened teachers, and that we can enhance our practice and our satisfaction with our work by examining ourselves through different lenses. In order to reach our students more effectively, we must examine the assumptions that underpin our interactions and communications. This influential book takes the reader through a process of reflection and evaluation that will lead to powerfully enhanced teaching. The group will begin the task of applying these perspectives to our own teaching, and tracking the results in our classrooms.
What the Best College Teachers Do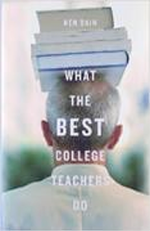 Tuesdays, 1/21, 1/28, and 2/3
2:00-4:00 in Strozier 027 B
Ken Bain wanted to know how some faculty manage to "make a sustained, substantial, and positive influence on how their students think, act, and feel." How do some faculty consistently provoke deep learning, while the rest of us merely have good intentions? Bain conducted a fifteen-year study of a hundred extraordinarily effective teachers, to see how they help their students learn. The book traces how these exceptional teachers approach their subjects, their students, and the process of learning.
What Universities Can Be: A New Model for Preparing Students for Active Concerned Citizenship and Ethical Leadership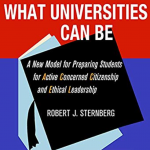 Wednesdays 2/12, 2/19, 2/26
2:00-4:00 in 432 Diffenbaugh
Robert Sternberg thinks that universities can do a better job teaching things like wisdom, compassion, creativity, and practical thinking. If we're preparing students to be leaders for the future, they'll need all of these skills, and opportunities to practice making ethical decisions. This group will discuss strategies for realizing Sternberg's ideas in our own classrooms.
Learner Centered Teaching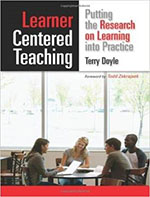 Tuesdays, 2/18, 2/25, and 3/3
2:00-4:00 in Strozier 027 B
Recent decades have brought a wealth of research on learning and cognition; these developments are gradually making their way into work on best practices for the college classroom. Doyle's Learner-Centered Teaching: Putting the Research on Learning into Practice is a practical guide to strategies for making effective use of the research. When we adjust our classroom focus from teaching to learning, we make our own work more gratifying, and we can enhance our students' learning experience as well as their mastery of material. The group will generate specific strategies and activities for enriching our own classrooms.