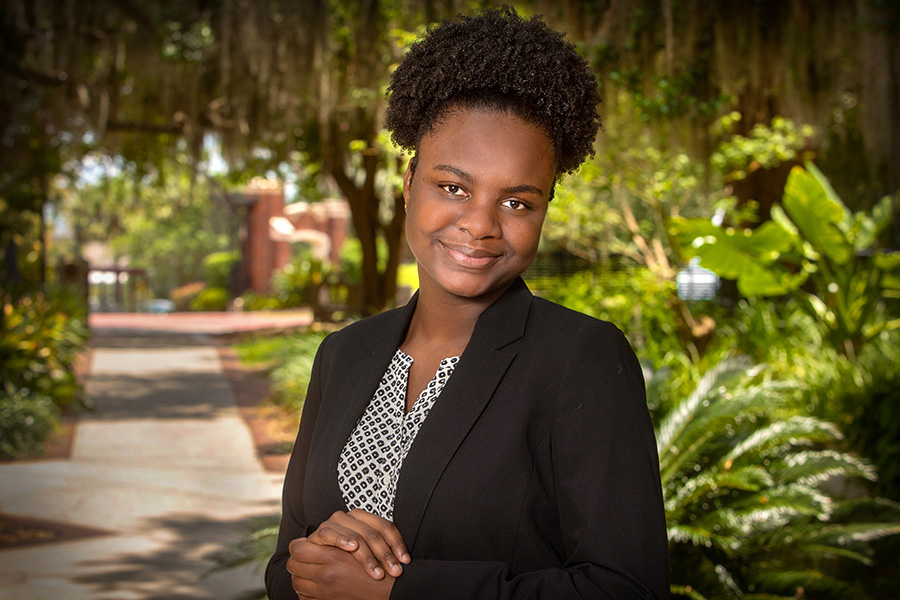 "I chose FSU because I wanted to find a home, to find a place where I felt safe and accepted. FSU has provided me with love and support and the resources to help me grow as a person."
When she first arrived in Palm Beach, Florida, at the age of 11 from her native Haiti, Anne-Marie Senatus spoke no English. She was bilingual, fluent in Creole and French, but learning the language of America would be a process of total immersion inside the classroom and in the world beyond.
"I didn't know any English when I got here — none," she said with a laugh. "It was very hard."
This August will mark nine years since Senatus arrived in the United States. She is heading into her junior year at Florida State University.
As she progressed through middle and high school, she said her teachers and counselors pushed community college and suggested she may not be ready for the rigors of a four-year university. That motivated Senatus.
As she searched for a college, she knew she wanted to go where she felt she was part of a community.
"I chose FSU because I wanted to find a home, to find a place where I felt safe and accepted," she said. "FSU has provided me with love and support and the resources to help me grow as a person."
As a first-generation college student, unfamiliar with the academics, administrative hurdles and financial demands of college, Senatus wasn't completely sure if she was ready either.
When she learned about the Center for Academic Retention and Enhancement (CARE) program at FSU, her dream became more attainable. CARE provides students with the tools and a network of support to navigate college. Senatus said it was a crucial factor in her success.
"CARE has provided so many resources and opportunities," she said. "They have been with me through the whole college process."
She added: "The counseling center was very, very helpful. My family wasn't familiar with the financial process but with CARE, we have ambassadors, or life coaches, that can help. There was also staff who helped and plenty of workshops — that's how I learned about the resources at FSU."
As she acclimated to FSU and college life, Senatus' interests drew her to the FAMU-FSU College of Engineering. She began pursuing research opportunities, participating in the Undergraduate Research Opportunity Program (UROP) and earning an IDEA grant for a project studying the removal of selenium in wastewater. It's a field of research that resonates both intellectually and emotionally for Senatus.
"In Haiti, having clean and running water in your home was a privilege," she said. "It can take weeks and months to get water in your home and when it becomes available, some can't afford it. When they can't afford it, that water runs out. When I came to the U.S., I learned that my country was not the only country without access to clean water and that sparked my interest."
The goal of Senatus' research is to help make purifying water more efficient and cost-effective.
"I want to be able to help put an end to the water crisis in developing countries like mine," she said. "I'm not sure of the precise end goal, but one day I'd like to run my own non-governmental organization where I could work in developing countries."
Senatus said some of that work will mean becoming part of the community, wherever she goes.
"I want to work and live there, to really be there and to be in the community," she said. "I want to actually help, not just stay in the U.S. and send help."
Senatus' research has earned her praise from the academic community at FSU, and she was recently named the first recipient of the Lisa Scott Undergraduate Research Award through the IDEA Grant program. Other achievements have followed including membership in the Florida Georgia Louis Stokes Alliance for Minority Participation (FGLSAMP) program, which Senatus said has helped her give back to younger students and get involved in research.
"Through the program, I have been able to volunteer at the science festival, math fun day and host the workshop about my involvement in research as a first-generation student," she said.
Senatus said she's focused on a future centered on giving back while also paying forward the experience she received at FSU.
"All of my experiences have given me the opportunity to share my wisdom and skills with the younger generation and the FSU community," she said. "I have gained valuable skills and made many connections that have helped me grow as a researcher, student and mentor."