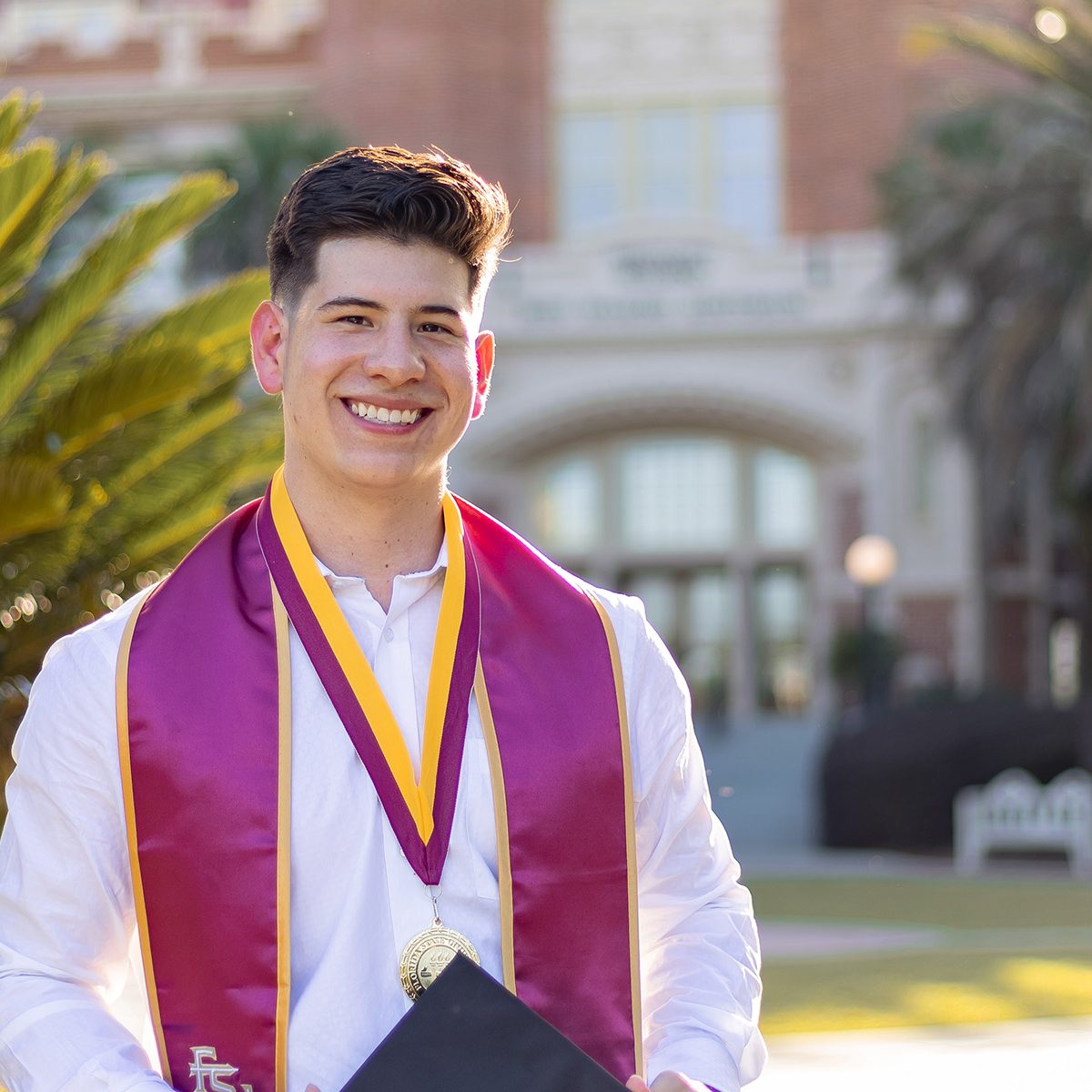 Daniel Zuniga, a recent Florida State University graduate who aims to practice medicine in underserved communities around the globe, has earned the prestigious accomplishment of being named a Rhodes Scholar finalist.
Zuniga interviewed Saturday in Birmingham, Alabama, for the world's oldest and most celebrated international fellowship award, following a highly rigorous, months-long application process.
"Being selected as a Rhodes Scholarship finalist means that the work that I've done is recognized and is valued by people outside of my community," Zuniga said.
While he was not one of the 32 U.S. college students selected for the Rhodes Scholarship this year, Zuniga said the honor was the culmination of all the work he had an opportunity to do as a scholar, a researcher, mentor and volunteer during his FSU career.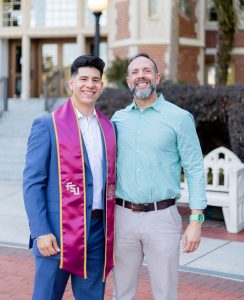 "Daniel really epitomizes the character of the undergraduate students that we have here at Florida State University," said Craig Filar, associate dean for Undergraduate Studies and director of the Office of National Fellowships. "He is intellectually curious, and he is kind and compassionate and wants to give back to society. He's very thoughtful in a very strategic way about how to find problems, solve problems, and institute solutions to these problems. We really couldn't ask for a better representative of our phenomenal student body than Daniel Zuniga."
As a teenager, Zuniga moved with his family from Bucaramanga, Colombia, to Palm Beach Gardens, Florida. He said being named a Rhodes Scholar finalist is especially meaningful because of his personal experience as an immigrant, including the challenges of learning English as a second language.
"It's a long distance that I've had the chance to walk, and I've done a lot of personal growth," said Zuniga, who graduated summa cum laude with a bachelor's degree in cell and molecular neuroscience in May. "I appreciate having the opportunity to be a student in the United States."
Zuniga plans to train as a physician and work with people who have challenges to accessing health care, such as those who are uninsured or from rural areas.
Growing up in Colombia, Zuniga saw his mother and father — who were both physicians at the time — caring for patients from an early age. When he was 13, he asked if he could go with them to work, sparking his interest in medicine.
"I had the opportunity to see the settings where they were working or how they would take care of people," he said.
He also saw the hospitals in disrepair and people waiting in long lines for medical care.
"These are communities that don't have the best resources and seeing that people are still working really hard to be able to provide the best care for their patients was touching," Zuniga said.
After Zuniga and his family immigrated to Florida, he had the opportunity to attend a pre-health magnet school where he started to learn about the disparities in global health care.
"There was a complete contrast," he said. "I had the chance to shadow physicians and intern in these hospitals — these beautiful settings where there was so much space, everything looked new and so clean."
Zuniga's experiences have inspired him to be a physician who can connect, motivate and influence patients' lives outside of a clinical setting. He also has an interest in bringing scientific research and biomedical innovation to underserved communities, especially outside of the U.S. where social inequality has a profound impact on health care.
At Florida State, Zuniga took full advantage of attending a top public research university, participating in research projects from synthetic biology, space medicine and neuroscience to education and population health. He continues to work with the Global Health Collaborative Project at the FSU College of Medicine, collaborating with Honduran physicians to gather and analyze data about gastrointestinal diseases in rural Honduras.
Zuniga also sought out service opportunities that would prepare him as a leader in global health, such as working as a learning assistant at FSU and volunteering with USSTRIDE (Undergraduate Science Students Together Reaching Instructional Diversity and Excellence), part of the College of Medicine's outreach and pre-college programming.
He said his experience as a learning assistant, where he helped teach undergraduate students STEM courses like biology and biochemistry, taught him to communicate scientific concepts fundamental to medicine to people from different backgrounds.
As a volunteer student coordinator with USSTRIDE, he learned about the historical lack of minority representation in primary and secondary STEM education. Through USSTRIDE, he co-created a summer program aimed at assisting high school students through the college admission process. He continues to be a tireless advocate for underrepresented minorities in STEM education.
"(Being a Rhodes finalist) is not only about my journey," he said. "It's about the fact that we don't have a lot of representation of people that come from my background in a medical setting or the scientific community."
Zuniga is grateful for the support and advice of his professors as well as administrators in the Office of National Fellowships who advised him in seeking out scholarship opportunities like the Rhodes.
"I learned about who I am as well and where I want to go," he said. "The community at FSU is outstanding."
Florida State has had a total of five Rhodes Scholars: Frederick William Buchholtz, 1905; Caroline Alexander, 1976; Garrett Johnson, 2006; Joe O'Shea, 2008; and Myron Rolle, 2009. In addition, FSU had Rhodes Scholar finalists in 2009, 2011, 2012, 2017 and 2018.
Rhodes Scholarships are fully funded, full time, postgraduate awards that enable talented young people from around the world to study at the University of Oxford. Created in 1902, they are the oldest and among the most distinguished international fellowship awards in the world. Scholars are selected based on academic achievements, character, leadership qualities and commitment to others.
For more information on nationally competitive fellowships and awards, visit onf.fsu.edu.