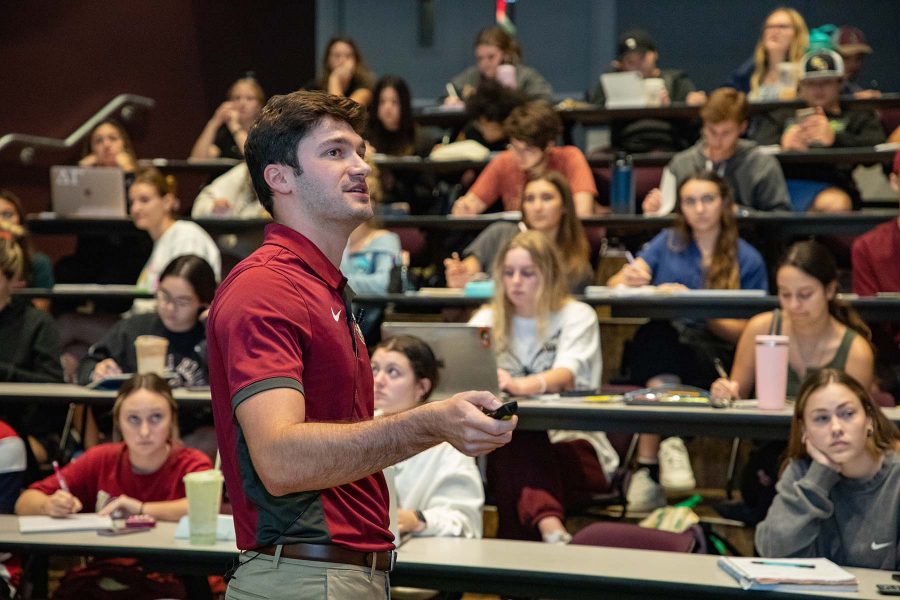 It was my first class at Florida State when I discovered the Learning Assistant (LA) Program. I was immediately impressed by the students who introduced themselves as our LAs, and felt a sense of comfort before heading into a notoriously difficult class knowing that they would be by my side throughout the term. How incredible is it that these upstanding students would want to come back as LAs with the sole purpose of helping us succeed? That inspired me from the beginning.
The LAs guided me through the class, and I knew that I could always count on them whenever I stumbled along the way, which was quite often. I ended up performing very well in General Chemistry I and II, and honestly am not sure where my scores would have ended up if it wasn't for the LAs. During the year, I developed a close relationship with one of my LAs in particular, Tom McClymont. Tom became a role model, a mentor, and most importantly, became a friend to me. If it wasn't for him and the impact he has had on me, my time at Florida State would certainly look plenty different than it does now. At the conclusion of the course, he encouraged me to apply to the LA program. While I was skeptical at first, it has easily been the greatest part of my time here.
I originally desired to be an LA to pay it forward. Given the effort that previous LAs had devoted to me, I felt that I owed it to future students to be a positive influence and help guide them as best I could through the course as well. I never imagined that being an LA would have an even greater impact on myself than it possibly did the students. I quickly realized the level of trust the students place in us. Ultimately, we are their peers, and because of that the students tend to be more comfortable coming to us with challenges they are facing. I learned to take this aspect of the job very seriously. It takes great responsibility to fulfill that trust and not let the students down. I learned how to be a role model, and was able to help guide the students not only through the class, but through their college experiences in general. It brings me great joy whenever I hear from current or former students how something I have done has helped them be more successful later on. Whether through developing new study habits, finding creative ways to explain difficult concepts, or simply being someone to talk to, I learned to consistently be prepared and always give the best I could to each and every student I came across. I learned to be more confident with my abilities, and even overcame all of my public speaking fears.
It truly is a privilege to be in this position. The best part of it all, I have developed lifelong relationships with faculty, co-workers, and even the students, many of which I still keep in touch with today. Being a Learning Assistant has turned me into a more confident, compassionate, and understanding person. I will take all that I have gained along with me wherever I go in my life, and for that, I will always be grateful for this experience. The LA Program made me feel at home when I first arrived at Florida State, and now, the LA Program is my home.